Bio from Staley Wise Gallery
Louise Dahl-Wolfe was one of the most celebrated photographers of the 30's, 40's, and 50's. Her work had enormous impact on great photographers such as Horst, Avendon, and Penn. Working in the heyday of Harper's Bazaar, she pioneered the use of natural lighting in fashion photography and shooting on location and outdoors.
Born in 1895 in San Francisco, Dahl-Wolfe first started taking pictures in 1923. She did her first fashion work for Harper's Bazaar in 1936 and had a long career as a fashion photographer for that publication. Louise Dahl-Wolfe died in 1989. Her work has been exhibited at the Grey Gallery at New York University, the Women's Museum in Washington and currently at the Fashion Institute of Technology in New York.
I think looking at a female photographer in those times is different to the other male photographers I have looked at. Dahl-Wolfe shot the Bazaar cover that made Lauren Bacall famous. The photograph is beautiful and so interesting because it is so true of its time. I would love to make a photo like this now, but I don't think I could. I like its colour and tones, and is so polished compared to the adverts I have looked at from the time. Her black and white images are also slick, well composed and so interesting to look at. I think the middle one is certainly timeless.
Looking at Dahl-Wolfe's work I had to look at Lauren Bacall as she was so iconic at the time. After being featured on that cover her career as an actress began. She had a quite sexuality and was classically elegant. Her hair with the loose curls covering her face in a shoulder length bob. With the images here I love the eyebrows, and her cheek bone definition. The light is quite harsh on the second two, but I do like it flatter on the third.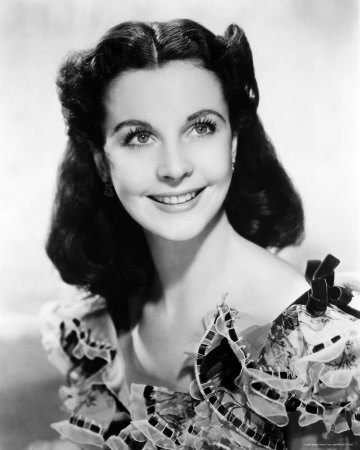 Vivien Leigh was famous for Gone with the Wind. She had a very chic look to her. I think she does look incredibly sweet. Again I am a fan of the big brows, and the little make up on the lids. Her lips don't look too dark either. Her hair is interesting with the middle parting and the pieces going up. I do prefer it up as it looks more visually interesting.
Incredibly beautiful woman, Ava Gardner was sophisticated, free spirited and rebellious. I love her make up, and the perfect eyebrows, line on the eye lid, and the darker lips. She looks very moody in the middle image, happy in the other and concentrating in the last.